Page 61  of  Violet E. Kettelle's book, The Rural Roads In East Greenwich In the Teens and Twenties of 1900, Their Farms and Owners with Some History, records the following information under Chapter heading "Deacon" Spencer's Farm: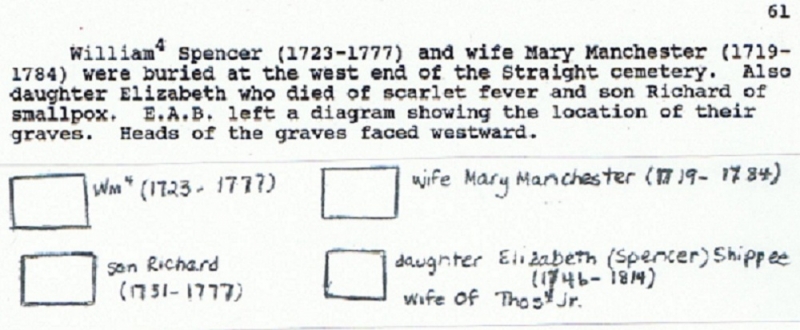 Diagram of Four Spencer graves buried at the west end of the Straight Cemetery
The number 4 written following the name William signifies that this William Spencer  is the fourth generation Spencer in East Greenwich.                                                                    1st Generation: John Spencer (c 1638-1684)                                                                                  2nd Generation: John Spencer (born 4-20-1666)                                                                      3rd Generation: William Spencer (born 5-5-1695)                                                                   4th Generation: William Spencer (born 7-4-1723)
William's great-grandfather and grandfather were both named John and William's father was also William.
Esther Amanda (née Spencer) Briggs (1835-1929) local historian wrote the following information–third paragraph on page 40– about the four Spencer burials:
O'Neil refers to Thomas O'Neil who bought the property from William J.B.Spencer in 1922.  Millers refers to Elsie Miller's family. Elsie Miller was a childhood friend of Audrey Mae Spencer, the last Spencer baby born on the Spencer farm in 1912. The Miller farm is now in the Macera name as Macera married into the Miller line.  In 2001,  Mr. Macera was instrumental in getting the Straight cemetery(aka Over-back cemetery), as well as the Mitchell family cemetery, recorded as he knew exactly and could substantiate where both cemeteries were located on his land or over the stonewall from his land –south of Middle Road and east of Carrs' Pond Road.